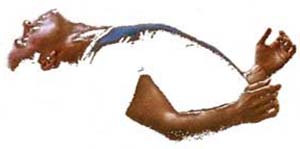 Discontents
(2002-2003) was composed as the score to the first section of a four-part performance piece,
Kick in the Eye
, by MAP Intermedia. In MAP's compositional process, each discipline starts with the same topic (idea & information) and a procedural map (articulated process). The individual artists then create collectively to realize a whole work comprised of different medium-specific perspectives of the particular subject matter.
Using textual guidance from Freud's
Civilization and Its Discontents
, and fragments from Metallica, Gary Numan, Ministry, D. M. Ingalls, Charlemagne Palestine, pornographic film and detuned radio stations as sound sources,
Discontents
is one example of what results.